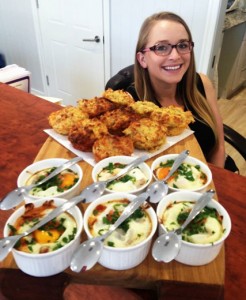 The great breakfast battle took place on the morning of Saturday, 6th September 2014. Our patients saw Renee's "Gluten Free Ham and Cheese Muffins" pitted against Robert's "Spanish Eggs with Beans and Chorizo," and we can now happily announce the clear winners were Renee's Muffins.
We thought it was only fair to share the winning recipe with all of you. I find they are perfect spread with a good quality cream cheese for an easy Sunday morning breakfast. If you want to make them a bit more fancy change the ham to smoked salmon, and add a cup of capers… yum… yum…. They are also fantastic to put in the kids school lunch boxes.
Renee's "Gluten Free" Ham and Cheese Breakfast Muffins
Ingredients: Makes 24 Muffins
600 g Gluten Free self-raising flour
4 tablespoons Dejon mustard
500 g chopped ham
500 g grated tasty cheese
3 large egg, lightly beaten
 500 ml milk
1 cup light olive oil
2 tablespoons Maple Syrup
salt and pepper
1/2 cup chopped chives or parsley (optional)
Directions:
Pre-heat an oven to 200°C
Grease 2 x 12 hole muffin tray
Sift flour into a large bowl and season with salt and pepper to taste.
Add the egg, milk, mustard, maple syrup and olive oil – mix well try not to over mix, just enough to combine the ingredients together.
Stir in the ham and cheese, and herbs- if using, mix again.
Spoon mixture into the prepared muffin tray and bake in the preheated oven for 20 to 25 minutes, or until the muffins are well risen and golden brown.
Remove from the oven and allow to cool slightly on a wire rack.
Serve whilst warm – delicious if spread with butter or cream cheese!